Growing plants indoors can be a very rewarding hobby. Not only provide visual interest to the interior, indoor plants also come with health henefits. Plants turn the carbon dioxide into oxygen and naturally remove harmful compounds from the air. They can reduce your stress levels and boost your mood. If you want to grow something indoors, there are noteworthy innovations that you might want to include in your gardening projects. Here are some of them: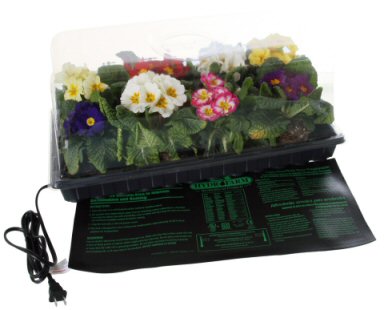 Greenhouse/Hot House Kit
11 x 22 x 7 – $49.95

Greenhouse/Hot House Kit with heated mat 7″ helps control humidity for better rooting and growth from seedlings and cuttings from your prized plants. This dome features 2 top mounted adjustable vents and side vents to achieve fresh air flow and desired humidity levels..
Ambienta Table Lamp
When it comes to table lamps, there are a lot of makes and models out there that make perfect bedside companions. But, while they can be a great choice, this product takes one step further. Designed by French designer and architect Daniel Pouzet, the Ambienta multi-function table lamp features grow and ambient lighting. Three grow light settings (low, medium and high) are provided to accommodate different plant light requirements. The company, Sage Vertical Garden Systems, offers pre-grown rooted plants that are ready for transplanting. The hydroponic growth medium is made of natural volcanic rock, eliminating the unpleasant side effects of standing water. Adding water can be accomplished easily through the smartly designed central watering system. Whether you want to use it to grow tropical plants that deliver eye-popping blooms all year round or ferns that act as a natural humidifier, this product is something you should check out.
Biopod Smart Microhabitat
This creation of a Canadian biologist, Jared Wolfe, really deserves a big thumb up. Being claimed to be world's first smart microhabitat, Biopod can mimic the natural environment of a wide range of plants and animals. The fully automated system has different parts and components. LED lighting, misting with reservoir, aeration system, heating, and temp/humidity sensor are what make up the enclosed ecosystem. From lighting to watering, it can take care of various aspects of maintaining the ideal environment for what you are growing or housing. Equipped with an HD camera, the app controlled microhabitat allows you to monitor your system from anywhere. With the help of the Biopod mobile app, you can enjoy the time lapse visualization of plant growth. The data collected from your system can be shared with others via the company's cloud-based server. If you have had limited success with growing herb or vegetable indoors, the Biopod ONE can be a great starting point.
Click & Grow Smart Garden Kit
LED grow lamp, built-in timer, and water reservoir are some of the major pieces that make up the system. Click & Grow is more than meets the eye. The "real magic" does not appear on the surface. The built-in light, for instance, only requires 6 watts of energy to operate. The specially developed growth medium eliminates the needs for fertilizers or other additives. New plants that are compatible with this system are constantly released. As of this writing, selection of refills include chili pepper, mini tomato, peppermint, parsley, basil, thyme and lemon balm. A number of combo packs are also offered by the urban farming company. The Divine Tea Mix combo pack, for instance, contains peppermint, lemon balm and stevia, allowing you to enjoy flavorful tea from your own homegrown herbs without much effort. It cannot be argued that the Click & Grow System has solved different plant cultivation problems that many home gardeners face.
Zero-Gravity Planter
By harnessing the effects of zero-gravity, this ultramodern creation can be a great conversation piece for you and your guests. The growing system is designed by Simon Morris, an art scientist that has brought us the FLYTE hovering lamp. Priced nearly $200, the planter may not come cheap but the maglev technology behind it is certainly interesting. The unique hovering system, that consists of a magnetised planter and an oak-finished electromagnetic base, is more than just a cool decorative element. Though the impact of magnetic fields on plant growth and development is not well-understood, some studies show that magnets help plants grow. It is also worth noting that the pot rotates 360-degree, ensuring the plant to get better sunlight exposure and air circulation. Coming with a geodesic design, the 12 sided levitating planter also produces interesting shades as it rotates.
Pikaplant Tableau Houseplant Tray
Automatic watering system is not a new thing. However, the innovations that have been made in this field are still interesting to watch. Pikaplant Tableau, the automatic houseplant watering tray from an Amsterdam design company, is one product that any indoor gardener will want to take a look at. Pikaplant Tableau is not a timer-based watering system nor a constant-feed pot. The tray does not require electricity to run, meaning it can be placed anywhere in your house. At a glance, the self-watering planter seem to involve nothing more than a transparent tank, a steel base, and three plant pots. That said, unlike many self-watering products out there, it is your plants that determine how much water they need. Designed to mimick the wet-dry cycle in nature, water is sucked up from below. A valve system that works based on humidity and pressure controls the entire process. Pikaplant Tableau is not just a set-it-and-forget-it system. It also severs as a work of art, something that you can use to brighten up any room.
Springworks Microfarm Aquaponics
Aquaponics is a symbiotic system where plants use waste from live fish as fertilizer and clean the water in return. If you are interested in owning your own but not ready to build it yourself, then the Springworks Aquaponics is worth taking a closer look. It allows you easily converts a standard 10-gallon aquarium into an indoor aquaponic garden. Grow bed, tank lid, timer, water pump, high-output light are all included in the kit. This closed loop system is not ideal for root vegetables and fruiting plants like tomatoes and peppers. It works best for greens such as lettuce and arugula. Herbs like parsely should also grow nicely.
Citysens Vertical Garden
Featuring vertical design, this indoor gardening system is ideal for small spaces. It can holds up to 4 pots (148 cm height). The system is designed in such a way that it does not need constant watering. The base holds about 1.5 gallons of water. An energy-efficient pump moves water through the system. It can irrigate your plants for more than 30 days. To accommodate different plant families, the self-watering vertical garden comes with a programmable irrigation timer. Another plus point about this system is that you can choose between conventional growing with soil or hydroponics. A number of plant families are available for you to choose from that include air-cleaning plants and herbs, allowing you to get the most environmental benefit from growing plants indoors.
We do not need high tech gardening devices to setup an indoor garden. That said, with the help of modern technology, it will be easier for us to create suitable conditions for our plants to grow. It can lessen the maintenance and work we need to do.